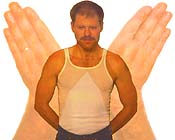 Healing Hands
Contact:

Email: gsatorie@satorie.com
Cell Phone: (410) 808-9063
Location:

Baltimore near 33rd St. east of JHU, in/out call.
Washington DC and surrounding area, out call.
Availability:

I work most days and evenings. Tell me what your scheduling needs are and I will do my best to accommodate you. Baltimore is my home base and I am available 7 days. I am available in Washington, DC 1-3 days every week. It is also possible for me to be available in other cities including Philadelphia and Chicago. Let me know if you would like me to travel to your area.
Sessions:

Most appointments are 60 or 90 minutes, which includes just a few minutes for you to get on and off the table. There will be a few questions at the start to discover any recent injury, surgery, or area of soreness or sensitivity. Please share freely regarding how you feel, and what hurts. You will be invited to remove whatever clothing you are comfortable removing. Keeping in mind your own concerns for modesty and the room temperature. A sheet is offered as a cover for you while you are on the table.
Fee For Service:

Fees for my professional time are listed below. My rates, while higher than some, are justified by extensive training, years of experience and the quality of my service. Very few practicing the art of massage today can match the intensity and quality of my work. With that in mind, please feel free to read what some of my clients have to say about my work and me. Read Testimonial.

Reduced fees are available on a case-by-case basis for disabled, health challenged or lower income individuals. Barter or other arrangements are also open for discussion. Payment can be made using cash or check or pay with your credit card by clicking the PayPal logo below!

30 minute massage: $60
60 minute massage: $110
90 minute massage: $150
2 hour massage or longer: $100/hour
Travel expense for out calls within 30 miles: $20
Travel expense for out calls beyond 30 miles: $20/hour

Pay me securely with any major credit card through PayPal!
---